This is one of my favorite posts that I do every year! I do it for my own memory because I know one day I'll be old and can't remember a darn thing and I'll have my precious blog books to sit and walk down memory lane! ;)
2012 overall was a trying year. There were a lot of fun times and many blessings, but it was a hard year. In fact, one year ago today, I took a positive pregnancy test only to miscarry at 10 weeks. What followed were lots of tears and more months of trying only to be followed by another miscarriage in May. I've always said that "hindsight is 20/20" and I think it's so true.
Now that 2012 is over and I can look back on it, my God was good and never, ever left my side. Yes, there were dark days, lots and lots of tears, uncertainty and questions, but I never doubted HIM for a second. He always provided a peace beyond understanding whether it was through my husband, family or friends emailing or calling with scripture and encouragement, I was always taken care of. God is good all the time and as we stare down the tunnel of 2013, my prayer is that our eyes will continue to remain focused on the LORD and His perfect, perfect plan! Happy New Year!!
JANUARY
Lots of cold weather this month kept us mostly indoors and getting creative with ways to let out energy!
Playing at the Discovery Center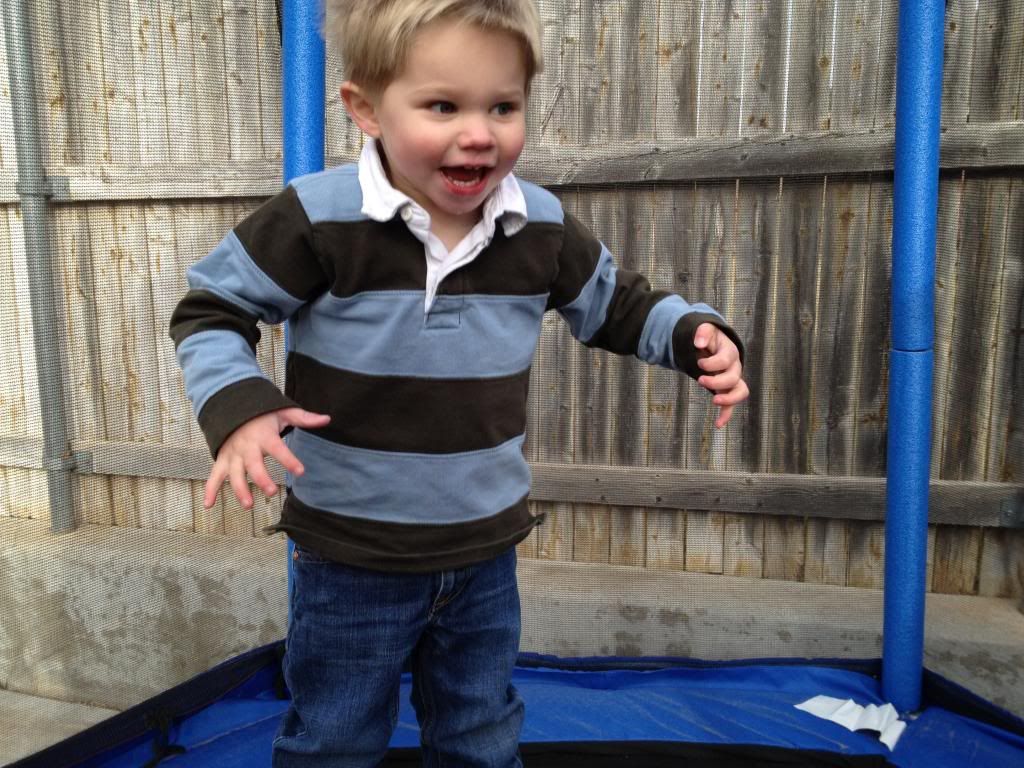 Jumping his heart out on his trampoline he got for Christmas!
FEBRUARY
We gave potty training a valiant effort this month only to crash and burn...he just wasn't ready!
Showing off his new undies!
Potty training means lots of time spent at home. When you get bored of your toys, get in the toy box, it's more fun!
MARCH
A busy month but a favorite...Spring is in sight and our annual Spring Break trip to Dallas rolls around!
Fun times at the Arboretum!
We even got to visit Ryan's fire station while in town!
The awesome warm weather let us even enjoy the zoo!
At the end of March, we made a family trip to the ranch one warm weekend, just the three of us!
APRIL
Parker finally got to get back on the golf course and we went to Dallas for Easter weekend.
This kid was excited to play golf again!
Easter Sunday
Dying Easter eggs with Leah and Ty at Neesie and Grandad's
MAY
Parker James turned 3 years old and we had two parties to celebrate!
A birthday donut for the birthday boy!
All his friends came over for a fun backyard swim party!
One excited boy to have the whole family at the ranch to celebrate his birthday!
A fun birthday lunch with family!
JUNE
We started off the busy summer with a trip to Big Cedar and then mom, dad and Lindsey came up to the ranch to play!
The whole fam at Big Cedar!
Two cute little boat boys!
Parker played some great golf at the Branson Creek course.
Fun with Neesie and Grandad at the ranch!
Watch out!
JULY
Another fun summer month full of activity and travels!
We started off the month with a 4th of July parade with friends!
Followed by a fun cookout and swim party to watch fireworks.
Later, James and I celebrated 10 years of marriage on the heavenly island of Nevis.
And Parker was well taken care of that week by my parents and his cousins!
AUGUST
This was a big month! We entertained friends at the ranch, I turned 32, we took Parker to his first Rangers game and we found out that we are pregnant!!!
Sweet friends at the ranch!
Leah, Julie, Tiffany and Amanda
Parker's first Ranger's game...he thought it was loud.
We are pregnant!!!!!! Praise God for this long awaited blessing!
SEPTEMBER
Parker started 2 day preschool, we took our annual trip to the Broadmoor and we had a fun visit by Neesie!
First day of 3 year old preschool at FBC.
Hiking through Garden of the Gods with his cousins.
Playing golf at the Broadmoor!
Neesie came and took good care of us one weekend while mommy felt bad and daddy was gone!
OCTOBER
We finally got to announce our pregnancy this month and Parker had so much fun visiting all the pumpkin patches around town! We were loving the Fall!
Shout it from the roof tops! This big brother is so proud!!
Parker's class took a field trip to a pumpkin patch.
I love this pic...Parker and True having a BLAST on a hayride!
He loved wearing his Halloween shirt.
NOVEMBER
We went back to Baylor this month for our 10 year anniversary Homecoming and it was so special! We also took P to the rodeo and celebrated Thanksgiving in Dallas.
Good to be back!
Reuniting with old friends!
Fun at the rodeo!
Happy Thanksgiving!!
DECEMBER
A full month celebrating Jesus's birthday!
Priceless
Parker loved visiting Bass Pro shop with Grandad while home for Christmas.
Merry Christmas 2012!